Google Data Studio is a cloud-based data visualization and reporting tool that allows users to create interactive, customizable reports and dashboards using data from a variety of sources.
Google have now re-branded this product as Looker Studio
With its drag-and-drop interface and user-friendly design, Data Studio makes it easy to create professional-looking reports and dashboards that can be shared with others. Data sources that can be connected to Data Studio include Google Analytics, Google Ads, Google Sheets, and many more.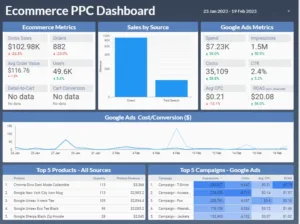 What is Google Data Studio
One of the key benefits of Data Studio is its flexibility.
Data Studio provides a wide range of data visualization options, including bar charts, line charts, tables, and maps, as well as the ability to customize colours, fonts, and styles.
Reports can be shared with others by providing a link or embedding them in a website or blog. Data Studio also provides collaboration features, allowing multiple users to work on the same report and providing real-time commenting and sharing capabilities. With its ease of use and flexibility, Data Studio is a valuable tool for businesses and organizations looking to create and share data-driven insights.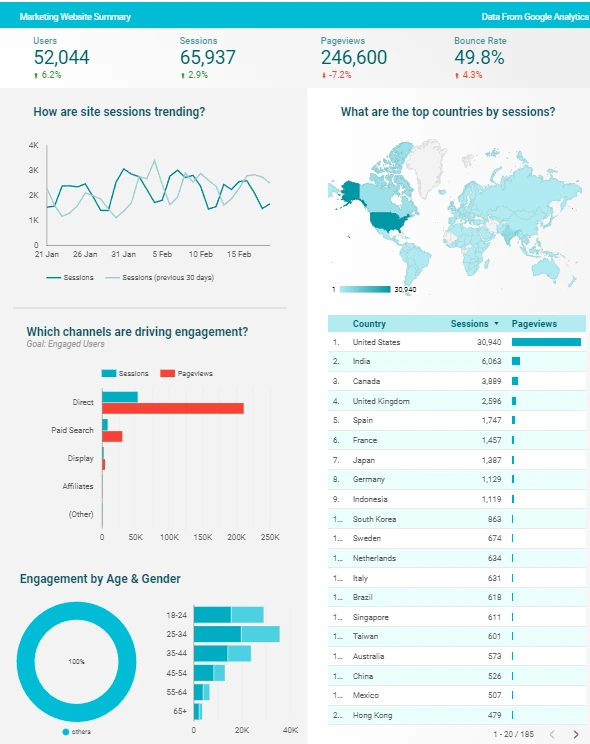 Data Studio is an online data visualization tool that helps users convert data into informative reports and interactive dashboards.
It is a powerful tool that allows users to connect to multiple data sources, including Google Analytics, Google Ads, Google Search Console and more. You can customize and format your reports, control and filter your data, and use advanced formulas such as calculated metrics and calculated fields.
The platform also offers dynamic controls, drill-down hierarchies, optional metrics, and custom bookmarks, providing users with an advanced and interactive reporting solution.
Find out more from Google and get started here with the free tool
(Please note Google rebranded Data Studio to Looker Studio in late 2022)
Google Data Studio Consulting
If you are looking for consultancy services for Data Studio to get the best out of this great tool then get in touch
From dashboard building to remote mentoring we are well placed to support you
Helping you get the best from Data Studio
Contact us to discuss your needs and our experts will help you get true value from your data
Contact Us