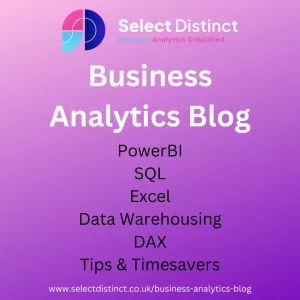 In our Business Analytics Blog, we talk about a wide range of topics.
From Business Analytics, to Tips and Timesavers for Microsoft Power BI. And tips and time-savers for SQL, including SQL Server Management Studio and Google Big Query. We also share practical tips for Excel.
As well as sharing our broader knowledge of Management Information, leadership, team building and mentoring
Tips and Timesavers
Our tips and time-savers are designed to share those little tricks and techniques that you wish you had known earlier.
Whether you are looking to learn about then benefits of data warehousing and what it can bring to your business. Or you are just looking for practical timesavers as an analyst, there is something for everybody
We hope you enjoy this blog, and if you have any questions or comments, please feel free to reach out!

Topic Filters
You can filter using these tags to find the content you like, newest posts will be shown first